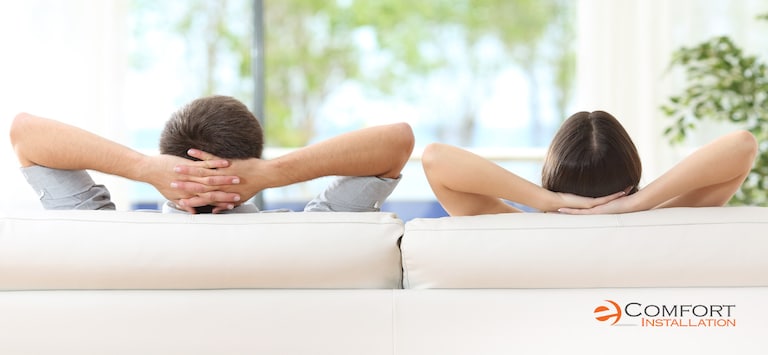 Comfort. Security. Peace of Mind.
On-Demand Furnace and AC Installation
When is the last time you bought movie tickets at the movie theater? By the time you get to the box office and pick your seats, all the good ones are gone and you and your date have to sit an aisle apart. Had you bought online, you could've picked your seats hours earlier and controlled the entire experience.
Now apply that to an air conditioning installation or furnace installation. The old approach is to spend hours researching and reading reviews only to find that the perfect installer isn't available for the next two months. If only a ductless, furnace or central AC installation option existed that would put the power in your hands...
eComfort now offers on-demand, heating and cooling installations that provide total comfort, security, and peace-of-mind for you and your family.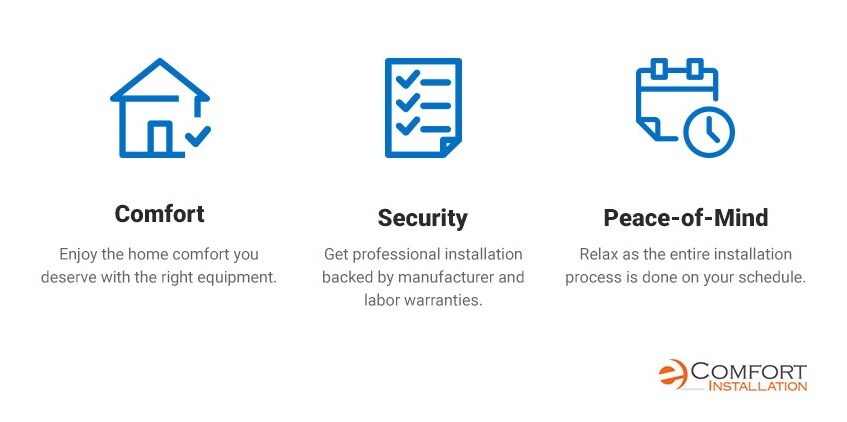 Why Choose eComfort Installation?
An eComfort Installation carries the following key advantages over a traditional approach:
One-Stop-Shop - Getting everything you need is easier than ever. Your eComfort Installation includes all the heating and cooling equipment, accessories, and labor needed to complete a standard installation!


No-Hassle, Upfront Pricing - You're in control. Transparent pricing on the equipment you want and the service you need. We also offer low monthly payment plans for added affordability.


Free, No-Risk Inspection - On their initial visit, your installer will inspect your home and go over your order to make sure you have the right equipment. If the inspection reveals any work that isn't part of the installation, you'll be notified before any work starts and can walk away without any penalty.

No Delays - eComfort Installation offers convenient tools to make sure work is completed on a schedule that works for you. Every job is monitored from start to finish to prevent delays and keep it on pace.


Factory Equipment Warranty - When you use eComfort Installation, you can rest easy knowing that your equipment will be protected by the full manufacturer's warranty.


Installation Quality Guarantee - Our installers are certified, trained, licensed and bonded HVAC professionals handpicked to exceed customer satisfaction in service and excellence. All installations are backed by a quality guarantee.


How eComfort Installation Works
Our installations are as easy as 1,2,3.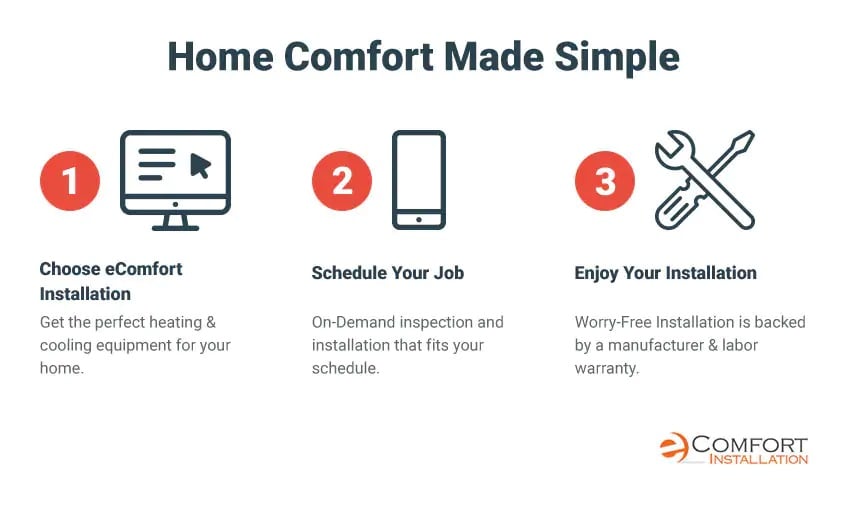 Our eComfort Installation makes getting your new Goodman forced-air equipment installed a breeze anywhere in the continental United States. Simply find the equipment you need, schedule an inspection and installation, and get your system professionally installed with a 1-year labor warranty and more.
VIEW: Goodman eComfort Installation Products
eComfort Makes Installation Simple
eComfort Installation is how heating and cooling is installed. Welcome to the next generation of comfort and convenience!
NEXT: Contact the eComfort Installation Team
Was this article helpful?