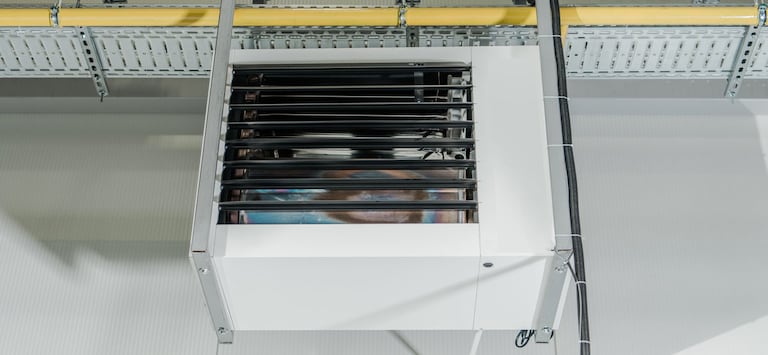 Unit Heater Buying Guide
How to Pick the Perfect Unit Heater
If you're looking to keep your garage or warehouse warm and toasty during winter, then a unit heater is one of the most effective solutions. Flexible installation options, sizes, and a variety of fuel types mean there's a unit heater perfect for you out there.

Our guide outlines everything you need to know about getting a unit heater for your garage and links out to additional information. So, if you're thinking about getting this great heating technology, keep on reading.


What is a Unit Heater?
Unit heaters are self-contained heating devices that use a fan to blow air over a heat exchanger directly into an area that needs heat. No ductwork is required. They are permanently installed on the wall or ceiling and are much more powerful than portable heaters.

Applications in which you might use a unit heater include:
Residential or Commercial Garages
Workshops
Warehouses
Greenhouses
Industrial Facilities
Basically, a single-room that isn't already connected to a building's central heating system can benefit from having a unit heater.


Types of Unit Heaters
Unit heaters can be powered by various fuel types. Choosing the most cost-effective fuel type for your area should be top-of-mind in the decision process.


Natural Gas Unit Heater
This is the most popular type of unit heater. If you have a natural gas line already hooked up in your building, then choosing a natural gas-fired unit heater makes the most sense, unless fuel costs are extremely high.


Liquid Propane Unit Heater
If you don't have access to natural gas, a liquid propane unit heater could be a good option. You just need to regularly monitor fuel levels. Most natural gas unit heaters can work with a conversion kit to run on propane.


Hydronic Unit Heater
If you have a water or steam boiler, then you can get a unit heater that runs on either hot water or steam. The hot water heats up the heat exchanger, which heats up the air.


Electric Unit Heater
If gas hookup isn't an option, consider an electric unit heater. You might be tempted to get a simple electric space heater instead in this case, but, remember, a unit heater provides substantially more warmth and is mounted out of sight.


No. 2 Oil Unit Heater
Although rare, oil-fired unit heaters are an option where natural gas is unavailable and electricity prices are unreasonably high.
How to Size a Unit Heater?
There are many variables to sizing any heating system, including unit heaters. You need to consider factors like the local climate, desired temperature, insulation, and where your room is facing.

Sizing a unit heater also involves figuring out how many units you need to heat a space. While a typical residential garage should be fine with one, a large warehouse can have 12 or more depending on how far each individual unit can "throw" hot air and the number of BTUs.

For this reason, we recommend having a professional do a Manual J Load Calculation to find out exactly how much heat you need for the space, which will help you choose the right-size and number of units.




Learn more in our HVAC sizing guide.
How to Install a Unit Heater?
There are many points to consider when installing a unit heater. That's why we recommend hiring a professional. Keep the following in mind:


Orientation
Unit heaters can be installed either horizontally or vertically.
Horizontal unit heaters are best suited for spaces with low ceilings and limited obstructions. To maximize their effectiveness, they are often placed around the perimeter of a large building to "wash" the walls with warm air.

When possible, they are placed near windows, overhead doors, and other points of increased heat loss. This replaces the heat at the locations where it is being lost most quickly and creates a blanket around the perimeter of the space that keeps the heat from escaping.




Vertical unit heaters are best for narrow buildings, buildings with high ceilings, or buildings where obstructions prevent the use of horizontal units. They are typically mounted near the center of the space and are arranged so that the heat spread from a unit overlaps with adjacent units.
Combinations of horizontal and vertical units may be used in exceptionally large spaces or spaces where different parts of the building require different heating strategies.


Mounting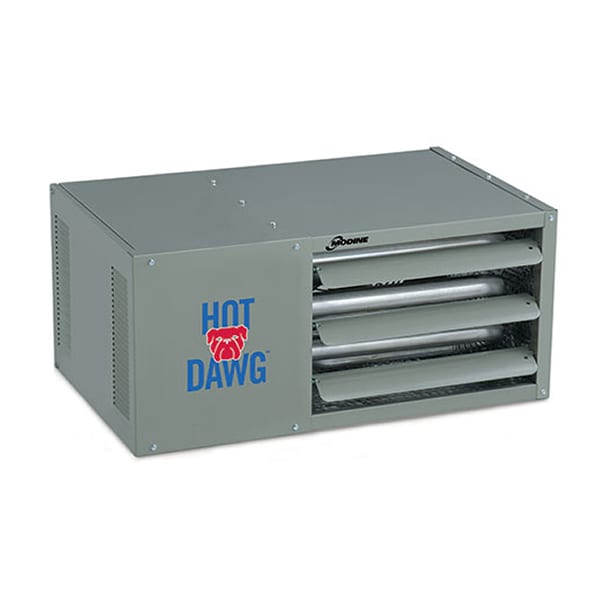 You must also decide how to mount your unit heater. This will depend on your space's layout.
Suspended unit heaters are attached to a bracket which is mounted on either the wall or ceiling. This is a great option if you want or need to mount your unit heater in a corner.


Wall-mounted unit heaters attach directly to a wall and blend seamlessly with the surrounding space.


Ceiling-mounted unit heaters are great if you lack wall space. Some mount on the surface of the ceiling, while others can be recessed and made to blend in completely with your ceiling.
Other Considerations
There are other considerations when buying a unit heater that vary based on which fuel type you chose.


Venting
If you chose any gas-fired unit, you will need to vent the exhaust. There are three main types of venting:
Chimney venting vents exhaust straight up your chimney. We don't recommend it because it's inefficient and has little flexibility when it comes to installation.


Power venting uses a motor to efficiently exhaust fumes out a ceiling or wall. We recommend this option in most cases.


Separated combustion venting brings in fresh air directly from outside instead of indoors. We recommend this if you run a woodshop, paint shop, or have many pollutants inside that would otherwise get sucked into your unit heater.
Heat Exchanger
The heat exchanger is the part of a heating unit that transfers heat from the fuel source to the air. There are two types of heat exchangers:
Aluminized steel is the standard material used for heat exchangers and is known for its ability to reliably transfer heat over may years of use.


Stainless steel, though more expensive, is more durable and better able to handle corrosive environments. If your unit heater will be exposed to corrosive chemical fumes or excessive moisture, stainless steel is best.


Voltage
If you have an electric unit heater, it's important to choose the correct voltage depending on your application.

Residential spaces will typically require unit heaters using 120V or 240V power supplies. However, if your workshop or garage is on a commercial property, you may have access to other less common voltage options such as 208V and 480V.


Controls
You can control your unit heater using either a standard or smart thermostat, such as a Nest. Check out our video on wiring a unit heater thermostat.
Buying a Unit Heater
There's a lot to consider when buying a unit heater, as you can see. But the warmth and comfort you'll feel when you get one will be worth it. If you have more questions about your specific application or what kind of unit heater you need, please call us at (866)-437-7998 to speak with a product expert.



NEXT: Shop All Unit Heaters
Was this article helpful?