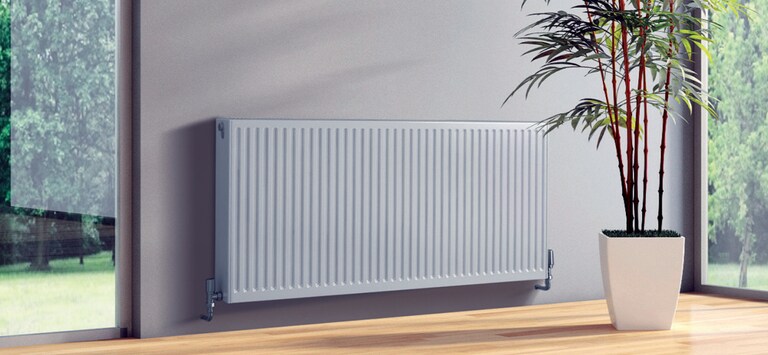 Radiator Buying Guide
How to Pick the Perfect Radiator & Accessories
It's not every day you buy a hydronic radiator, but when you need one, you typically really need one, whether it's for a new boiler heating system in your house or a mid-winter replacement.
You might be mostly familiar with the bulky cast iron radiators found in grandma's house, but more stylish flat panel radiators have become available in recent years.


What is a Radiator?
Radiators use the hot water from your central boiler to heat individual rooms in your house. As the hot water enters the radiator through piping, it flows through a winding tube inside before exiting to flow to the next radiator. The tubing is surrounded by small convector fins to increase surface area for maximum heat transfer.
Different types of radiators transfer the water's heat to your room differently. Traditional cast iron radiators use radiation, i.e. the heat from the water gets transferred to objects in the room, including your body.
Flat panel radiators, sometimes called convector radiators, primarily use convection, which is the heating of air. As air flows into the radiator from the bottom, it heats up, and rises into the room. The rising hot air displaces cold room air, which sinks to the bottom and is also drawn into the radiator. The cycle continues until the air in your room reaches the temperature you want.

Why Choose Flat Panel Radiators?
With their elegant design, flat panel radiators offer a sleek, modern look and blend in nicely to any room. They can even be painted to match room colors. Their attractive design has made flat panel radiators popular in Europe for years, and now they're catching on in the U.S.
Lightweight panel radiators are a perfect alternative for replacing bulky, dated cast iron radiators in your home and are well suited for both low- and high-temperature systems.



What is the Difference between Single and Double Panel Radiators?
The difference between single and double panel radiators lies in the number of panels each has. As their names imply, single panels have only a front panel and double panels have a front and back panel.
Double panel radiators can provide more heat faster because they have extra surface area from which to convect the heat. They work best in larger rooms or rooms with more heating needs. Single panel radiators work well in smaller rooms, hallways and bathrooms.

Sizing Your Radiator
If you're replacing existing baseboard radiators, choosing the right size is fairly simple. If that's not the case, be sure you choose the right size to avoid headaches and save yourself a lot of time.
If you're having trouble determining what size to choose, feel free to give us a call at (866) 554-4328 for expert help. You can also use our radiator sizing calculator.

Mounting the Radiator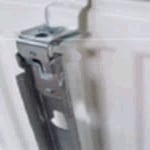 Each radiator comes with two clamp-style mounting brackets. Simply anchor these to the wall and insert the radiator into place.
The radiator is reversible for left-handed applications. In addition to the standard bottom connections, the radiator can be installed with same-end connections and opposite-end connections.

Selecting Radiator Fittings
You'll need the proper fittings to connect your radiator to your heating system. The tables below outline the different connections you may need depending on whether you're using PEX or copper tubing.
PEX Tubing Fittings
| | |
| --- | --- |
| | 3/8" PEX |
| | 1/2" PEX |
| | 1/2" PEX-AL-PEX |
| | 5/8" PEX |
| | |
Copper Tubing Fittings
| | |
| --- | --- |
| | 1/2" Copper Sweat |
| | 1/2" Copper NPT |
| | 1/2" Copper Compression |
Valve Options for Radiators
If you choose to install your radiator without any valves, you will need fittings to connect the radiator directly to your pipes:
1/2" x 3/4" Radiator Adapter

For use when connecting an ecostyle radiator or replacement on a Pensotti or Buderus.
For series-loop applications, using a by-pass valve allows shutoff of water to an individual radiator:
1/2" Straight By-Pass Valve

For use when your pipes exit the floor.

1/2" Angle By-Pass Valve

For use when your pipes exit the wall.
For all other applications, such as monoflow, reverse-return, home run, etc., using an isolation valve allows shutoff of water to an individual radiator:
1/2" Straight Isolation Valve

For use when your pipes exit the floor.

1/2" Angle Isolation Valve

For use when your pipes exit the wall.
Advanced Temperature Control for Ecostyle Radiators
Each radiator comes with a manual knob to regulate water flow to, and heat output from, the radiator. You can add a thermostatic control head for advanced temperature control, which will regulate water flow based on room temperature.
You also have the option for different sensor locations:
Built-in Sensor

Measures the temperature near the radiator.

Remote Sensor

Measures temperature elsewhere in the room.

Remote Wall Sensor

Measures temperature and allows control from elsewhere in the room.
NEXT: View & Shop All Ecostyle Radiators
Was this article helpful?