Ecobee vs Nest
Battle of the Smart Thermostats
Google Nest and ecobee are two of the biggest players in the world of smart thermostats. You've probably come across both if you're researching a smart thermostat for your home and might be wondering which is better.
Comparing ecobee vs Nest smart thermostats isn't so much about comparing specific features as it is about what kind of person you are and how you interact with technology. That being said, there are some uses for which a Nest or ecobee is clearly the better option. In this smart thermostat review, we'll paint a simple, yet informative picture of both devices to help you make the right decision.



Google Nest Overview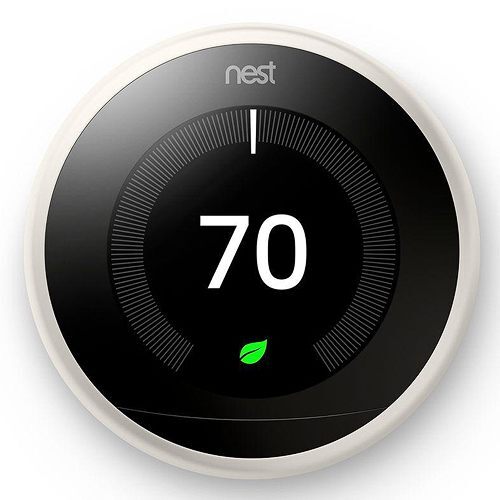 Often when searching for something on Google, it feels like the search engine knows you better than you know yourself. The same is true of its smart thermostat product--the Google Nest.
Built around a learning algorithm that automatically figures out your temperature preferences during the first couple weeks of use, the Google Nest is the perfect smart thermostat if you want maximum comfort without ever worrying about re-setting the thermostat. Once the Nest learns your habits, it will provide the perfect temperature for your home every hour of every day--this includes switching to Away Mode when it detects you're not home.
Of course, you still maintain ultimate control of your Nest at all times and can even turn off learning mode if you feel like taking a power trip. When you set your Nest to an energy efficient temperature, the thermostat will reward you with a leaf icon that means you're saving money.
The Nest looks nothing like traditional thermostats, sporting a simple, yet elegant design that's sure to spur questions and comments from visitors. It has a circular shape with multiple color options and a dial control.
Although it naturally pairs best with a Google smart home, the Nest plays nice with most other smart home systems, including Amazon Echo. The rivalry between Google and Apple means the Nest won't work with the HomeKit platform, however.


ecobee Overview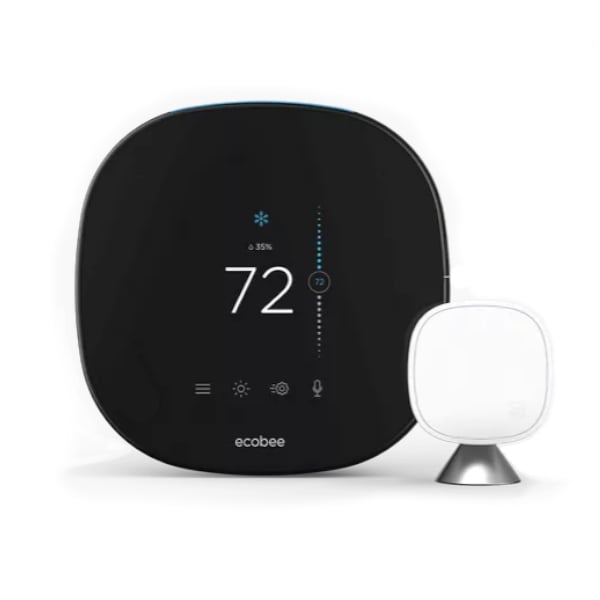 The ecobee packs remote sensors, voice-activated control, and a wealth of reporting features all into a traditionally-shaped, black thermostat.
Although the built-in Alexa speaker is what gets many people's initial attention, the ecobee offers much more. ecobee pioneered the use of remote temperature and motion sensors that you can place around your home. These sensors cooperate in determining the appropriate temperature based on how many people are in the house and in which room they are. Gone are the days of reliance on the main thermostat sensor, which only took into account the temperature of one room anyway.
The ecobee is controlled by a touchscreen and has an elegant glass front panel. Its traditional design makes it fit seamlessly into most rooms. Detailed energy efficiency reporting provided by the Home IQ features offers data lovers a wealth of information from which to make energy-conscious temperature decisions.
Although Alexa is built-in, ecobee is compatible with most other smart home platforms, including Apple's HomeKit. Overall, ecobee is everything most people would expect or want out of a smart thermostat.


Nest vs ecobee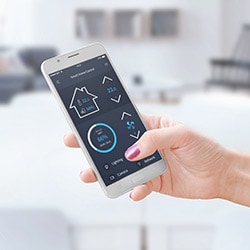 If you are a hands-on, techy person who likes to be in control of your gadgets, then an ecobee thermostat is your dream come true. You can talk to it using Alexa voice service, dive into detailed reports about your power usage, and use remote temperature and motion sensors to optimize home comfort.
On the other hand, if you are a hands-off person who wants a smart thermostat that is minimalist yet does all the hard work of learning your temperature preferences and adapting accordingly, you'll find that the Nest offers unrivalled simplicity.
We'll now compare five specific areas: Temperature control, smart-home compatibility, energy-efficiency, design, and installation.


Nest vs ecobee: Temperature Control
Nest and ecobee take different approaches to temperature control. Nest's major selling point is its learning algorithm. During the two weeks after installation, the Nest thermostat will use a default heating/cooling schedule and record all the temperature adjustments you make. For example, maybe you work as a nurse every other day and only keep your house conditioned on Tuesday, Thursday, and Saturday. The Nest will figure that out.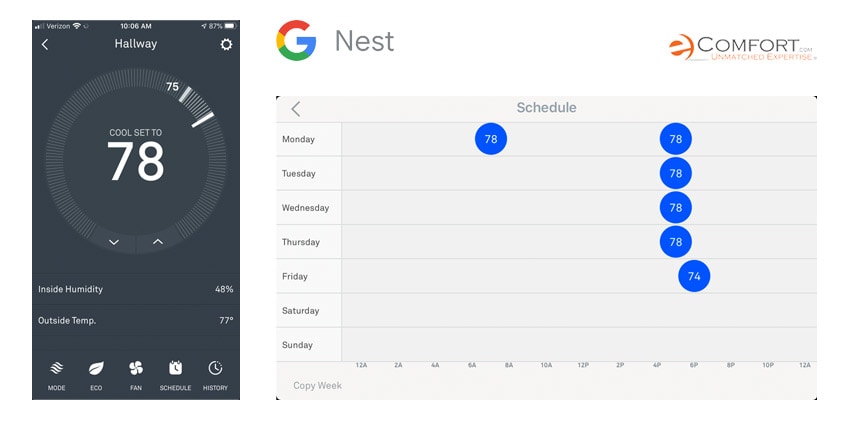 Then, once the Nest "learns" your comfort schedule, it will automatically stick to it without you having to touch a thing. If your schedule changes for some reason and you manually raise or lower the temperature, the Nest will continue learning and adjusting the schedule. You also have the option to turn the learning feature off and manually set your temperature schedule if you choose.
ecobee takes a more traditional approach to temperature control in that you set your own schedule. However, ecobee offers advanced DataRhythm Technology that can adjust the temperature based on occupants, your home's energy loss, and the weather outside.
To accomplish this, ecobee uses remote sensors that track temperature and motion throughout your house and report back to the main unit. For example, if a motion sensor detects multiple people in the family room, it will tell the thermostat to adjust accordingly. You can even schedule different sensors to work at different times of the day. Maybe you want extra heat upstairs in the morning but downstairs in the evening. The remote sensors will work together to accomplish this. Nest also offers remote sensors that operate the same way, except, they can only track temperature and not motion. Also, while ecobee comes with a remote sensor, Nest sensors are sold separately.
Geofencing, which is the thermostat's ability to know when you are home based on your phone's GPS, is available on both ecobee and Nest. When the thermostat detects that you left the house, it will reduce heating/cooling. When you return, it will resume. Of the two, Nest has better geofencing because it can read multiple phones. ecobee can only use geofencing on one phone (without complicated third-party app setup), so if you leave the house during winter, it will lower the heat even if your spouse is still home!


Nest vs ecobee: Smart Home Compatibility
One of the main reasons to get a smart thermostat is to integrate it with your smart home and be able to control it via voice command and your mobile device. When it comes to integration, Nest is best for a Google home but ecobee gives you slightly more options, as it's compatible with Apple HomeKit.

The biggest draw for many folks about ecobee is its built-in Amazon Alexa Voice Service. The latest generation of ecobee offers a full suite of Alexa features, including calling, messaging, music, and drop-in. In layman's terms, you can talk to your thermostat and tell it what to do.
Nest doesn't have any built-in speaker, which is great if you're not someone who likes all the "bells and whistles." However, you can still integrate it into your Amazon Alexa or Google Home-controlled smart home. In fact, if you use Google for your other smart devices, you should definitely choose the Nest for the best experience. Sorry, Apple users--the Nest is incompatible with HomeKit.
Both the Nest and ecobee can also be controlled from your smart phone if you download their mobile apps, which are available on Android and iOS. Having the app is especially crucial for controlling the Nest because the unit doesn't come with a touchscreen.


Nest vs ecobee: Energy Efficiency
Being smart thermostats, both the Nest and ecobee are designed to be "smart" when it comes to energy efficiency. Traditional thermostats turn on when they sense the temperature is above or below the setpoint without any regard to who's home, where the temperature sensor is, or the outside weather. As described earlier, the Nest and ecobee work to provide you optimal comfort with limited energy use.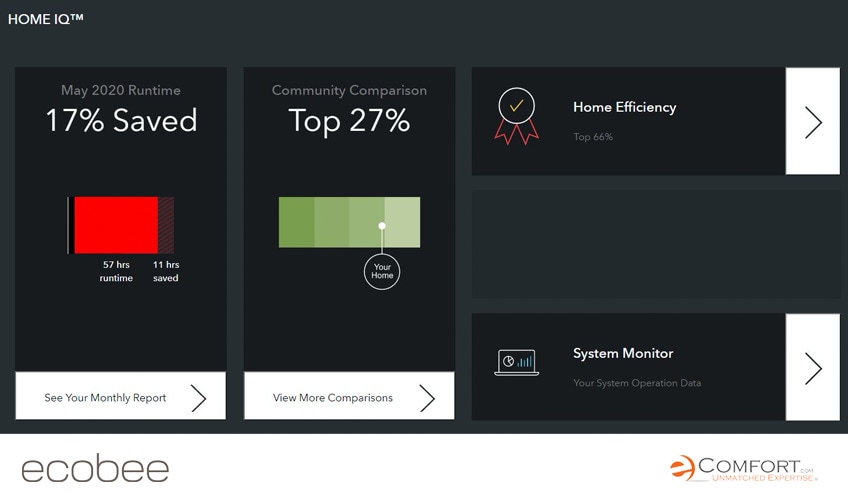 The difference lies in how these two thermostats report energy efficiency. The ecobee offers a detailed analysis report that monitors your heating/cooling usage over 18 months to help you further optimize your energy savings. Such comprehensive reporting is perfect if you're very hands-on and motivated by technology. If you're not, you'll probably never use it.
Nest offers simple, yet informative energy efficiency reports that track only 10 days of data. If it detects that you've made an energy efficient decision, the Nest thermostat will display a green leaf icon. This basic green leaf is usually enough for the average homeowner who doesn't have time to study detailed reports.


Nest vs ecobee: Design
Design may not matter for everyone, but some folks want their thermostat to match the surrounding room aesthetic. The ecobee has a rectangular shape with rounded edges and comes in one color—black. Its more traditional thermostat design is perfect if you want something that blends into the room. Plus, it comes with a touchscreen.
The Nest rocks the boat with its circular design and multiple color options including white, black, brass, copper, mirror black, polished steel, and stainless steel. If you have one, guests will notice. The tradeoff is no touchscreen, a heavier weight and a smaller screen size of only 2.1 inches compared to the ecobee's 3.5 inches.



Nest vs ecobee: Installation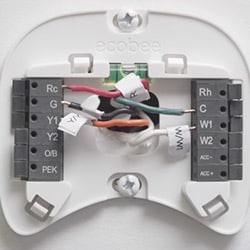 As far as thermostat installations go, both the Nest and ecobee are relatively simple. They come with everything you need to install them, including an optional backing plate in case you need to cover up a hole from a former thermostat.
Connecting them to older heating/cooling systems may be tricky, though, because many older units lack a common wire or C wire, which allows continuous flow of power to the thermostat. To address this, the ecobee includes a power extender kit which will need to be connected to your system. The Nest doesn't include such a kit so you must either purchase an add-on kit or remove the thermostat regularly for charging (no C wire means no charging). We recommend hiring a professional installer, especially for older systems.
Ecobee offers a bit more installation flexibility thanks to its remote sensor. For example, you can install the main thermostat next to the heating/cooling system and place the remote sensor wherever you spend the most time. As mentioned, Nest now offers remote sensors too, but does not include one packaged with the main thermostat.


Nest vs ecobee: Which is Better?
Both the Nest and ecobee are the perfect thermostat for the right person. While there are some minor differences in features and compatibility, overall, both units can do the same things and keep you much more comfortable than a standard thermostat.
To decide between the two, it's best to determine what kind of user you'll be. If you're thinking of just setting and forgetting it, then go with a Nest. If you are planning to "geek out" over every feature and datapoint, go with ecobee.
If you have any additional questions about the ecobee vs Nest thermostat, our comfort experts are standing by to assist. Just contact us to speak or chat with one of them.


NEXT: Thermostat Buyer's Guide
Was this article helpful?