Millions of homeowners are discovering ductless mini split systems as an answer to their home's heating and cooling issues.

But, if mini splits are the answer, then controllers are the key to unlocking their full potential of efficiency and adaptability in your home.



Are You In Control?
Better control over your home's heating and cooling equipment means better comfort for you. Controls are essential for older homes retrofitted with zoned systems and with the right control strategy, you can easily transform problem rooms like attics, sun-rooms, and additions into perfectly-tempered retreats with the convenience of integrating into your home's existing systems.
Getting the perfect controller doesn't just give you a better-performing mini split system, but one that's easier to use and tailored specifically to your preferences.
Hear how controls solved issues for the Kirby home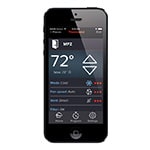 What is a Controller?
Similar to a computer keyboard or mouse, an HVAC controller is a device that
allows
you to communicate with your equipment. These devices range from simple handheld remotes with basic functions to complex wireless devices that you can control even from your smartphone!
Inside each indoor unit are sensors that will, based on user input, call for cooling, heating, or de-humidification to reach your desired comfort setting and keep it there by using energy-saving inverter technology. Sure, mini splits are one of the most energy-efficient solutions, but
it's the controllers
that give you the ability to fully customize your home's comfort.
Like a maestro conducting a symphony, controllers can seamlessly direct multiple indoor units and allow you to supplement existing equipment like a furnace or boiler.
A ductless mini split, paired with the right controller, will give you the power to harness its true potential. As we move down the list from one kind to another, each type will give you more options, flexibility, and automation.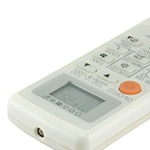 Standard Controls
More often than not, people are surprised to learn that their indoor units do not come with a "smart thermostat" out of the box. Instead what
is
included is a hand-held controller.
Like your TV remote, you can communicate with one indoor unit at a time in the same room. You're able to manually control the unit by: turning it on or off, setting the thermostat (to cool or heat), and controlling the air speed and vane direction. Some models may even feature timers and sensors that will allow for better comfort and convenience.
If you are using a single-zone mini split unit for a rarely used room, then a standard controller may be all that you need. But, for an array of multiple indoor units, you're going to want an easier way to control them from a single source.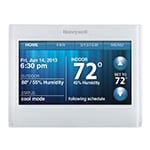 Programmable Controls
If you are looking to install a larger mini split system with multiple zones, you'll quickly learn how much trouble it is to manually control each individual unit!
Programmable thermostats
feature automated daily settings without losing any functionality with that of a standard controller.
With these controllers you can pre-program your desired temperature ranges for a given day and it will "tell" the connected unit(s) when to run and for how long based on the parameters you've previously set.
Just be sure you choose a programmable controller that is the same brand as your mini split system, otherwise it won't be able to communicate directly with the indoor units without first connecting to an adapter.
Pro Tip:
If you're wondering which products will work with your mini split system, manufacturers publish
compatibility charts
that you can easily download from our product pages under the "manual" tab.

Smart Thermostats
Since the personal computer, internet, and telephone combined forces to create the ultra-powerful and ultra-convenient smartphone, people have continued to find ways to simplify their lives through automation.
The internet of things (IOT) are home devices such as: lighting, alarm systems, locks, thermostats, and more that are managed from your mobile device, so you never have to think about them or even be home to control them.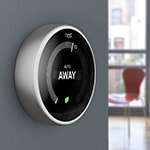 Smart thermostats
, like ecobee and Nest, go beyond mere scheduling to unlock possibilities that in the past, no-one could've dreamed of! Features like real-time weather notifications and predictions that can automatically adjust the system's settings. They can also 'remember' and 'learn' your comfort preferences and anticipate your settings based on the time of day, whether your waking up in the morning, coming home from work, and going to bed at night.
Other smart thermostat features include: multi-zone sensors that can detect occupancy and humidity and the ability to connect home security devices like cameras and smoke/CO sensors. You can even receive safety home alerts directly to your phone if the temperature reaches dangerous levels for pets or gets so cold your pipes are at risk of bursting, if a fire or carbon monoxide is detected, and even if there's a potential burglary.
Though they are intelligent, smart thermostats don't always work well with mini split heat pumps and may be more expensive and complex to install than alternatives. For each indoor unit, you'll need to install a smart thermostat paired with a thermostat adapter (sometimes called a dry contact) so they can communicate with each other. You may also experience reduced functionality like not being able to adjust the fan speed, vane direction, or control humidity.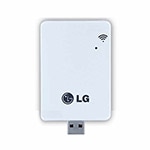 Wi-Fi Adapters
People may be mesmerized with smart thermostats, but if you want to be in the driver's seat and take your home's comfort to the next level without the added cost and confusion, installing a Wi-Fi adapter is your ticket.
Due to their ease-of-use and low cost,
Wi-Fi adapters
are easily one of the best control solutions on the market by retaining functionality of a programmable without sacrificing the convenience of a smart thermostat.
Wi-Fi adapters are brand-specific, yet simple to install and use. Although they won't augment an existing HVAC set-up, they work by connecting directly to each indoor unit, enabling you to control all of the indoor units from your mobile device, tablet, or computer.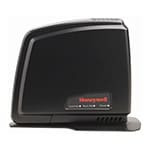 Integrated Control Systems
If you're thinking about supplementing your existing forced-air or boiler system with a Mitsubishi mini split, you may consider getting RedLink controllers that will bring all of your equipment together. Without having to manually run two or more separate devices, you can control everything from one central controller or smart phone, making your life easier!
By installing
integrated controls
, your mini split can also supplement your home's heating and cooling equipment, saving you money on energy costs by utilizing inverter technology.

Master Your Domain
Now that you have an understanding of what controls are and what they allow you to do, you'll be able to build a robust comfort strategy with complete confidence.
If you want more information about how to build a custom comfort system you will be proud of,
contact our experts
today!
Shop All Mini Split Thermostats and Controls