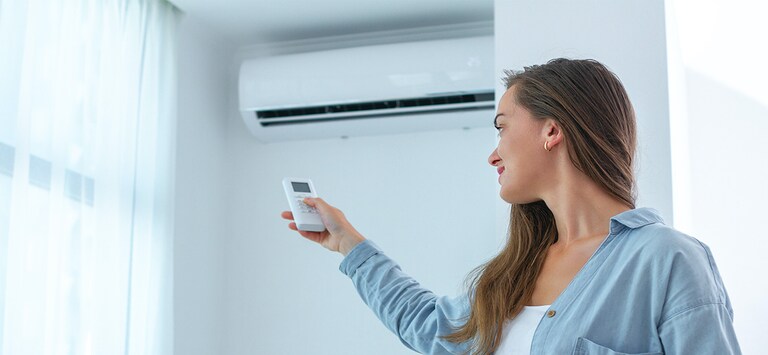 How to Get Control of Your Mini Split System
Mini Split HVAC Thermostats and Controls
If you're buying a ductless mini split system, then you appreciate the quiet, efficient comfort it provides throughout your home. With the right mini split controls, you can have this comfort nonstop at your fingertips.


Mini split controls help you easily transform problematic rooms like attics, sun-rooms, and additions into perfectly-tempered retreats with the convenience of integrating into your home's existing systems.



How to Set Mini Split Temperature
There are three different mini split control options: standard controls, WiFi modules, and smart thermostats.


Standard Mini Split Controls
When you buy your mini split, the indoor unit will come with a standard remote control. Like your TV remote, these controls let you communicate with one indoor unit at a time in the same room. You're able to manually control the unit by turning it on or off, setting the thermostat (to cool or heat), and controlling the airspeed and vane direction. Some models may even feature timers and sensors that will promote better comfort and convenience.


If you have a single-zone mini split unit for a seldom-used room, then a standard controller may be all that you need. But, for an array of multiple indoor units, you're going to want an easier way to control them from a single source.



WiFi Adaptors
For complete control of multiple mini split units from one device, go with a WiFi adaptor. These adaptors allow you to communicate with your indoor units from a WiFi-enabled device and remotely control the temperature and humidity of any room. You can even use them to program the temperature, like you would with a programmable thermostat.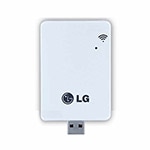 WiFi adaptors are brand specific, however, meaning that you will have to buy one compatible with your specific brand of mini split. The benefit of this is that you preserve all your specific mini split system's functionality.
These are some common WiFi mini split options:
The

Kumo Cloud WiFi adaptor

works with Mitsubishi ductless units and can communicate with small sensors to gauge individual room temperatures. Using the Kumo app, you can then program and operate your mini split remotely.





The

LG Smart AC WiFi Module

works specifically with LG mini splits and lets you control temperature, humidity, air flow, fan speed, and other settings through its

LG SmartThinQ

app.





The

Fujitsu mini split thermostat adapter

lets you control your Halcyon mini split and monitor performance issues via its mobile app.
Each brand listed above lets you control multiple zones from one phone and/or one zone from multiple devices so you have complete mastery over your comfort.


Smart Learning Thermostats
Smart thermostats, like ecobee and Nest, are often what people think of when talking about controls. They go beyond mere scheduling to include features like real-time weather notifications, voice control, and predictions that can automatically adjust the system's settings. You control everything from the corresponding mobile application.



They can also 'remember' and 'learn' your comfort preferences and anticipate your settings based on the time of day, whether you're just waking up in the morning, coming home from work, or going to bed at night. Other smart thermostat features include multi-zone sensors that can detect occupancy and humidity, and the ability to connect home security devices like cameras and smoke/CO sensors.


As great as this sounds, keep in mind that ecobee and Nest mini split thermostats are third-party systems that aren't specifically built for your mini split. If you use them, you will lose much of your mini split functionality, including humidity control and the efficiency benefits of inverter technology.


Master Your Domain
Like a maestro conducting a symphony, controllers can seamlessly direct multiple indoor units and allow you to supplement existing equipment like a furnace or boiler.
Now that you understand what controls are and what they allow you to do, you'll be able to build a robust comfort strategy with complete confidence.


If you want more information about how to build a custom comfort system you will be proud of, contact our experts today!
NEXT: Shop All Mini Split Thermostats and Controls
Mini Split Buyer's Guide Navigation
Home
|
Inverter Technology
|
Efficiency
|
Dehumidification
|
Heat Pumps vs A/C
|
Winterizing
|
Single-Zone vs Multi-Zone
|
How To Zone
|
Indoor Units
|
Accessories
|
Find an Installer
|
Mini Split Sizing Calculator
|
System Builder
Was this article helpful?