Enjoy the Embrace of a Warm Towel
An Intro to Towel Warmers
In the quest to transform a boring bathroom from a room of utility into a luxury destination fit for a king, a towel warmer tops the list.

There's nothing quite like the experience of stepping out of a hot shower into a cold bathroom just to be embraced by the warmth of your hot towel.

More so than any area in the house, bathroom renovations and upgrades offer more return on investment. A good bathroom renovation, on average, provides a 62 percent return. A warm body plus a cold towel equals a bad time.

For that reason, the most luxurious of bathrooms—those seeking a true spa experience—upgrade from a standard towel bar. Innovations in radiant heating technologies have moved from the floor to the towel bar, upgrading the simple bar to a functional towel warmer.

A number of options now exist for those wishing to upgrade to electric towel warmers. The technology behind it is rather simple: a filament runs through the interior of a towel bar. This filament, once electrified, generates heat. This heat is then transmitted via conduction to the (usually metal) exterior of the towel bar. Various insulations and internal mechanisms prevent the filament from over-heating the towel bar. This makes sure a towel is warm to the touch without any danger of burns—to yourself or your towels.

Runtal, and Ecostyle produce quality towel warmers to ensure your bathroom has that perfect air of luxury.

Runtal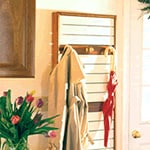 Runtal also offers a full line of luxurious electric towel warmers. The company actually helped pioneer the technology, creating one of the first flat panel radiators back in the 1950's. Using the same radiant heating, Runtal towel warmers warm an internal filament which transmits heat out to towels and robes.

The Runtal Omnipanel Towel Warmer takes this concept one step further. Instead of pushing heat out to cylindrical tubes, the Omnipanel heats flat panels. Flat panels allow more surface area for more even heat of towels and clothes. Hung on a bathroom wall, the Omnipanel can even be used to heat the surrounding air.

Available in 16 and 24-inch widths, the Omnipanel towel warmer is rated for up to 2,400 BTU of heat per hour. This heating muscle ensures any towel resting on the Omnipanel during a luxurious shower will be as toasty and warm as if taken fresh from the clothes dryer. An included intensity switch on all Omnipanel towel heaters allows a user to fine tune the amount of heat transferred into their towels.

Runtal manufactures a variety of accessories to further enhance its luxury. One such is a panel insert with protruding knobs. These knobs, available in a variety of finishes, allow a user to hang robes or clothes from the Omnipanel. Another accessory is a telescoping drying rack. When not in use, the rack sits flush to the Omnipanel, but when wet clothes need to be hung to dry, the rack pulls out to accommodate an entire wardrobe.
View & Shop All Runtal Towel Warmers
Towel warming technology has come a long way in recent years. Advances in technology and material science allow for a wider variety of less expensive electric towel warmers. Runtal and Ecostyle represent the forefront of this movement, applying radiant heat for the most luxurious bathroom experience.
NEXT: How to Pick the Perfect Towel Warmer
Was this article helpful?