How to Pick the Perfect Direct Vent Boiler
Direct Vent Boiler Options
There's a no-nonsense beauty in the direct vent boiler for home heating. The direct vent boiler tries to strip away any extraneous hardware to heat a home in the simplest manner, through flame and hot water.
Direct vent systems do not use long chimney lengths rising through a home, but instead install near an exterior wall and vent directly to the outside. The Peerless PureFire direct vent boiler is one such machine.
Powerful Heat Output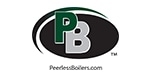 First things first, the PF-110 is capable of creating some serious heat. It is rated for anywhere between 27,500 to 110,000 BTUs of input capacity. Put into more relatable numbers, the PF-110 is perfect for heating homes up to 5,000 square feet. That's a lot of heat for a lot of home.
Great Efficiency
Even better than this power is the PF-110's efficiency. HVAC heating efficiency in these cases is measured using Annual Fuel Utilization Efficiency (AFUE). Recorded as a percentage an AFUE score tells a homeowner how much of their heating dollar goes directly to heating. The PF-110 scores an AFUE rating of 93%. Considering Energy Star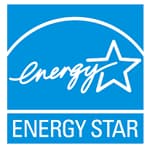 designations begin at 85 percent, the PF-110 achieves outstanding efficiency.
The PF-110 achieves this power and efficiency through smart engineering. The boiler in the PF-110 features condensing technology, drawing heat not only from the flame but from the energy latent in exhaust gasses. The burner is completely modulating. When little heat is required, the flame can be dialed down for maximum energy savings. Then once temperature dip, the burner can ramp up operation for maximum heat.
Combining Power and Efficiency
The Weil-McLain Ultra direct vent gas boiler offers a greater range of power and efficiency. Six models in the Weil-McLain Ultra line can deliver anywhere from 80,000 to 230,000 BTUs of heat per hour.
Even with this amazing range of power options, no Weil-McLain boiler in the Ultra line scores an AFUE rating below 93.5 percent. When looking at this efficiency score, consider that a typical boiler will run year in and year out for, often, twenty years or more. With such a long product life, this efficiency translates into substantial monetary savings on yearly heating costs.
Adding Intelligent Design
The Ultra Series boasts smart construction in achieving both power and efficiency.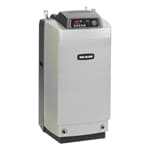 First, the gas-flame is fed by a Venturi mixing body which provides the ideal ratio of air to gas for maximum flame. The burner itself is made of durable stainless steel. The gas-fired boiler then makes use of an aluminum heat exchanger. Aluminum, being very efficient thermally, facilitates a very fast transfer of heat between the ultra-efficient flame and the hydronic water.
The Weil-McLain Ultra series, similar to the Peerless boiler, uses modulating technologies for maximum efficiency. An Ultra Series burner can modulate at a 5 to 1 turndown ratio, providing a wide range of flame strengths to suit environmental needs both inside and out. In addition to the modulating flame, the Weil McLain Ultra uses modulating motors to tailor the total combustion output to a home's needs. If you're looking for the best boiler, and the best comfort, for your home, start your search with direct vent models. These units offer a convenient installation, high efficiency ratings, and even temperatures.
NEXT: View & Shop All Direct Vent Boilers
Was this article helpful?