Subscribe for Water Filters and Save
eComfort Water Filter Subscription Service
On average, your water filter needs to be replaced every 6 months to protect you from dirty tap water.


But who has time to remember that? Weeks and months go by. One day, you wake up and realize your tap water tastes funny again because you've forgotten to change the filter!


We'll take the hassle off your shoulders with our water filter subscription service.
You need to replace your filter no matter what, so might as well simplify and save with a subscription.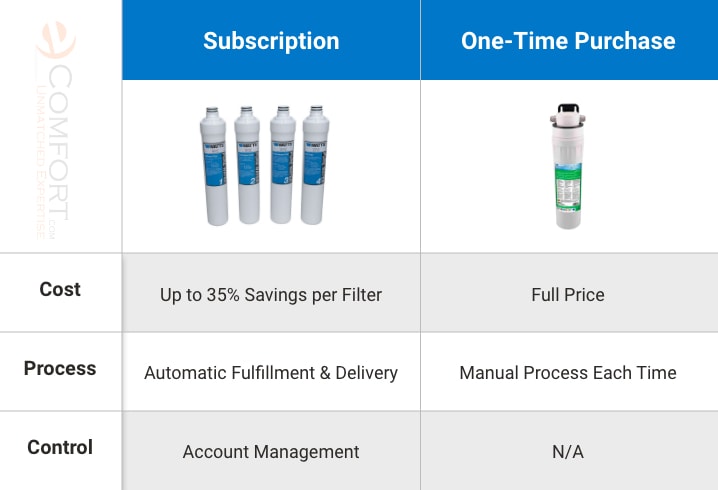 Find Your Filter
The best way to determine which replacement filter you need is to either look at the old filter or check the product manual that came with your filtration system.


Lost your product manual? If you have your system's model number, you can type it into our Product Manual Lookup Tool. Your manual will tell you which replacement filters you need and how often you should change them.


You can then lookup the appropriate filter on our site and add it to your cart.
Choose Your Subscription
Once the filter is in your cart, select "Subscribe to Save," at which point you'll be asked to:
Choose Your Frequency:

How often do you need filters delivered? You can find this information in your filter system product manual. You can have filters delivered monthly, every three months, every six months, every nine months, or yearly.



Choose Your Quantity:

How many filters do you need per order? Choose between 1 and 12. The more you choose, the less you pay per filter. Your quantity will depend on how many water filtration systems you have in your home and how many filters each uses.




Order & Relax
Once you set up your subscription and place your order, you don't have to touch a thing. Fresh replacement filters will be automatically delivered to your door according to the schedule you specified. All you haver to do is unbox and replace.


If you ever need to change or cancel your subscription for any reason, you have full control to manage your online account with us or contact our professional team for assistance.
Keep Your Water Clean
A water filter subscription is the easiest way to ensure your tap water stays clean and healthy for the whole family. Don't leave your home's water quality up to memory and manual ordering. Sign up for a water filter subscription today!



Find a Replacement Water Filter
Was this article helpful?