Mitsubishi Multi-Zone Buyer's Guide
How to Pick the Perfect Mitsubishi Mini-Split Condenser
If you're struggling to keep your home or office comfortable, you are not alone. Extreme shifts in temperature may cause certain rooms to feel like a meat locker while others sweltering like the Sierra Desert. Enter the dreaded 'thermostat wars'!
Although these situations can be downright frustrating, the solution is simple: a zoned heating and cooling system where you can control ideal levels of comfort in each room.
Each zone independently operates so people in different rooms can relish in their own microclimate. If you're looking for a complete comfort solution for several rooms, the M-Series from Mitsubishi is an excellent choice.
Mitsubishi M-Series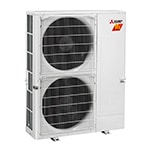 The M-Series is specifically designed with homeowners and small businesses in mind. These mini splits will restore peace while providing lower energy costs year-round.
In fact, most of these INVERTER-driven systems are ENERGY STAR certified and are up to 40% more efficient compared to traditional systems. An M-Series multi-room system is also an ideal choice for supplementing a current system, or new additions and replacing a system within a home or office up to 8 zones.


Choosing an Outdoor Unit
Get the right outdoor unit by following these 3 easy steps:
Determine Extreme Cold-Weather Heating
Pick a Condenser Using the Table Below
Do I Need Hyper-Heating?
Hyper-Heating technology or H2i, is Mitsubishi's incredible low-ambient temperature heating technology. H2i can also be used to supplement an existing heating system, thereby lowering utility costs.
So, if you live anywhere but the southern most region of the country, Hyper-Heating is an excellent choice. Just be aware that higher-capacity units will require the use of branch boxes and do not come in multi-port configurations.
As you can tell from the chart, efficiencies of regular heat pump mini-splits start to drop-off dramatically when outside temps start to dip below 40 degrees F and aren't capapable of heat past 10 degrees F. On the other hand, Hyper-Heating units maintain 100% efficiency down to 5 degrees F and still produce heat down to -13 degrees F. That's amazing!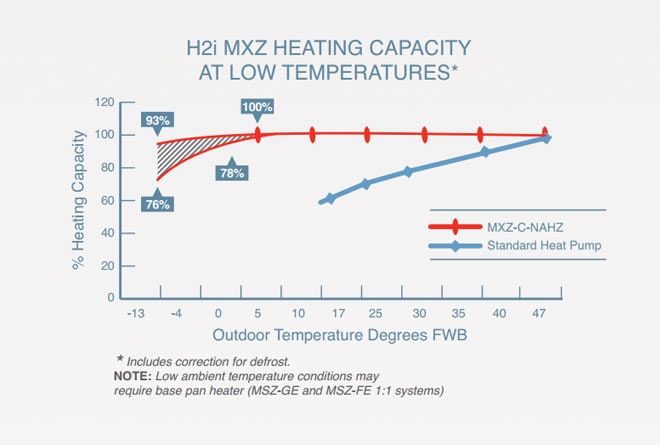 How to Choose a Mini Split Condenser
Choosing the perfect Mitsubishi outdoor condenser is easy once you've determined the size, number of zones, and if you require cold-weather heating. Use the chart below to locate your specifications and click on the model needed.
What are Branch Boxes and How Do I Know If I Need Them?
A branch box is a junction box between the outdoor and indoor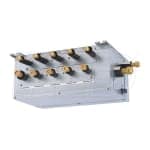 units that allows you to harness the power of larger systems and Hyper-Heating units. They also allow for shorter line set runs instead of going all the way back to the outdoor unit while serving as a hub for several indoor units.
Without branch boxes, larger systems would be terribly inefficient. Instead, they direct the flow of refrigerant to provide maximum performance and efficiency. Acting as the "brains" of the operation, the branch box "tells" the condenser how much cooling or heating is required and then directs it to each zone.
For all of their brains, branch boxes are quiet brawny too. Typical units are larger than a shoe box measuring-in around 16x21x7 inches. Because branch boxes should be mounted indoors, you'll need to map out your installation so that they'll have ample space for serviceability down the road.
How to Connect Multiple Branch Boxes

If you want to create more than 5 zones on opposite ends of the building, pre-braised distribution pipes help to make it possible by allowing you to plumb-in an additional branch box. Just as a cable-splitter makes watching T.V. in each room possible, separation tubes will allow you to take a line set from the condenser and split it into two usable connections. This makes larger, more spread-out zoned systems possible.
Pro Tip: Both branch boxes and separation tubes are sensitive in the way that they are mounted. Consulting the installation manual is a must when determining how to install them properly.
In most cases, branch boxes cannot be mounted upside down and separation tubes need to be installed "flat" - meaning perfectly horizontal or vertical to the ground. Installing either can greatly affect the performance of your system and may even cause damage.
READ MORE: Multi-Port vs. Branch Box Systems
Multi-Zone Installation Considerations
Installation Accessories
Mini Split accessories are a fool-proof way to round out a complete and thorough installation of any M-Series mini-split system. Getting the right parts that are designed to work with your system will ensure quality and performance while preventing delays with your installation process.
Port Adapters

In certain situations, it may be necessary to use adapters in order to connect line sets to the condenser unit. Port adapters are included with multi-port systems, but many people mistakenly think that these adapters will restrict the flow of refrigerant and are tempted to either modify the existing line to work or revert back to a "standard" sized line. However, these adapters will not restrict flow and will allow you to use the proper sized line regardless of the fitting size.
Electrical Wiring/Communication Wire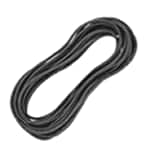 The utilization of branch boxes may also come with added flexibility when it comes to wiring. In some cases, you won't have to run your electrical wire from each indoor unit all the way back to the condenser. In these situations, the units can be powered independently using a power source closest to them, putting less strain on a single breaker as well.



NEXT: Ultimate Mini Split Buyer's Guide
Was this article helpful?