Boost Your Dryer with a Little Help from Fantech
Finding The Right Dryer Booster
Clothing dryers are notorious for fluctuations in efficiency; lint build-up or improper venting can often mean wet laundry. Fantech's Dryer Boosters are specifically designed to optimize the efficiency of your clothes dryer.

An industry leader in ventilation solutions for residential and commercial spaces, Fantech delivers over twenty years of experience in every product they produce.


Fantech DBF110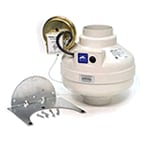 The Fantech DBF110 is an add-on fan designed to maximize a clothing dryer's performance.

A clothing dryer that is placed in a home's basement, with its exhaust line traveling up and out through a roof chimney may take advantage of the thermal properties of warm air, but the long runs of exhaust tubing often make for non-optimal venting. The DBF110 Fantech dryer booster is designed to be installed anywhere along the fan exhaust line. Once installed, the DBF110 can boost dryer exhaust runs up to a distance of 108 feet.

The DBF110 is manufactured of thermoplastic resins to achieve a nexus between cost and durability. As the unit is designed for inline installation, its thermoplastic construction ensures continued performance even amidst hot dryer air. Drawing only 80 watts, the Fantech DBF110 is capable of moving 167 cubic feet of air per minute.

The fan blades inside the DBF110 are engineered for maximum performance. The blades are backward inclined to allow any straggling lint to pass through. This prevents lint from amassing on the fan blades and potentially clogging the unit. For shorter exhaust runs, the DBF110 can be paired with a secondary lint trap to prevent moist lint from escaping. If installed within 15 linear feet of the dryer, even the advanced engineered fan impeller runs the danger of loading with wet lint. Therefore, the addition of a Fantech DBLT4W lint trap ensures optimum performance even over the shortest of exhaust runs.

Fantech DBF4XL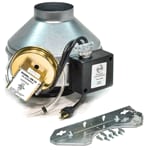 For longer dryer exhaust runs, Fantech offers the DBF4XL. The exterior housing of the DBF4XL is made of galvanized steel. This upgrade from thermoplastic allows the DBF4XL Fantech dryer booster to work harder than its counterpart. The DBF4XL is rated for operation in dryer exhaust runs of up to 130 feet, suitable for even those in turreted castles.

Like the DBF110, the DBF4XL is engineered with backwards inclined fan impellers. Again, this removes the possibility of lint build up compromising the DBF4XL's performance. Similar to the operation of its smaller brethren, the DBF4XL comes standard with a pressure switch which automatically senses airflow from the dryer below. This pressure switch then turns the DBF4XL on and off without any input other than starting the laundry dryer.

The DBF4XL draws 83 watts and is capable of moving air at an impressive rate of 170 cubic feet per minute. The unit, drawing more power, requires more stability. Fantech includes mounting bracket hardware with each DBF4XL to ensure each unit is properly secured. For maximum usability, each DBF4XL also features a five foot power cord, allowing the unit to be installed anywhere in the exhaust run without worry of reaching a power supply.

The DBF4XL is itself not much bigger than the exhaust duct it replaces. With a diameter of just over 9 inches and only 8 inches tall, the DBF4XL can be installed in even the tightest of spaces. The DBF4XL uses the most common 4-inch ducting connectors for simple installation with little hassle.

Fantech DBF4XLT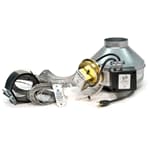 The pinnacle of the Fantech dyer booster line is the DBF4XLT Intelligent Dryer Booster. At first glance, the DBF4XLT shares many of the same features as the DBF4XL. The XLT has an exterior housing made of galvanized steel for maximum durability. Also present is the internal pressure switch to activate the motor automatically when air pushes up from the dryer below. The DBF4XLT also utilizes Fantech's backwards inclined impeller blades on the fan. Fantech touts the backwards impeller blades as self-cleaning, greatly reducing the possibility of lint build up.

The DBF4XLT is touted as an intelligent dryer booster. Each DBF4XLT includes a wall-mount indicator panel. This panel features a series of LED lights which indicate to the homeowner the status of their dryer exhaust. For example, if lint builds inside the exhaust run, the LED lights will change to alert the homeowner. Other conditions which the smart dryer booster can indicate include a loss of power, a locked motor and low motor speeds. This inclusion of a smart LED display truly makes the DBF4XLT an intelligent dryer booster.

The Fantech series of dryer boosters make certain each penny spent running the dryer goes into ensuring clean, warm clothes.


NEXT: View & Shop All Dryer Booster Fans