How Do I Update My Pickup Location?
How Do I Place a Local Pickup Order?
When Can Items Be Picked Up?
Who Can Pick Up My Order?
Why Can't I Select Local Pickup for Some Items?
Why Can't I Select Shipping for Some Items?
Which Payment Methods Are Accepted?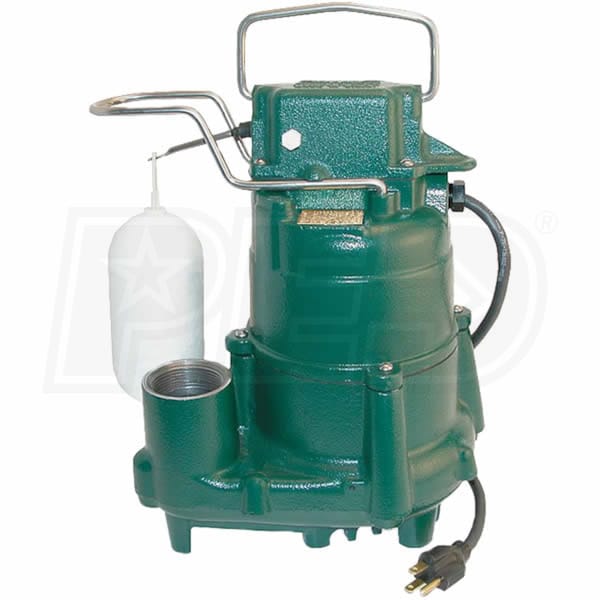 Hover to zoom
1 Of 5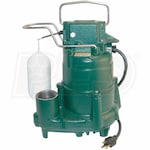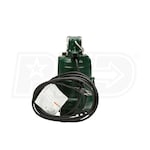 Zoeller M98 - 1/2 HP Cast Iron Submersible Sump Pump w/ Vertical Float Switch
Expert Recommended Accessories
Selected by Bob, our Expert
These accessories are required to properly setup/install this product.
Product Video Disclaimer: "PED is not responsible for any variances from the product in this video and the item you purchase. Please review all product specs prior to purchase."
***PLEASE NOTE - May Ship w/ 9-Foot Cord***
Automatic Submersible Cast Iron Sump Pump

Offers years of reliable, trouble-free operation

Engineered Thermoplastic Base

Designed to prevent base corrosion in harsh environments

No Sheet Metal Parts To Rust Or Corrode

Stainless steel screws, guard, handle, arm and seal assembly

Thermally Protected, Permanent Split Capacitor Motor

Oil-filled and hermetically sealed to prevent overheating

Vertical Float Switch

Solid and buoyant polypropylene design

Carbon & Ceramic Shaft Seal

Assures maximum protection for extended pump life

Powder Coated Epoxy Finish

Provides a corrosion resistant exterior

Clog-Resistant Design

No screen to interfere with flowing debris

Capable of passing 1/2" diameter solids

Industry Leading Quality Control

Entire unit is pressure tested after assembly
WARNING: Cancer and Reproductive Harm - www.P65Warnings.ca.gov.
98-0001
General Information
Product Category
Sump Pump
Base
Base Material
Thermoplastic
Min Sump Basin Size
18 Inch
Motor
Power Cord Length
15 Feet
Pump
Housing Material
Cast Iron
Impeller Material
Plastic
Solids Handling Size
0.5 inch
Float Type
Vertical Float
Discharge Port Size
1-1/2 Inch
Engine
Overview
Product Category
Sump Pump
Consumer Warranty
3 Years
Product Length
10.125 Inches
Product Width
7.875 Inches
Product Height
12.06 Inches
Additional Model Numbers
M98, 98-0001
Zoeller 98-0001 Reviews & Ratings
Product Questions
Answered by Bob, the eComfort Product Expert
Is the Zoeller M95 a new pump?
Michael
from Connecticut
April 07, 2017
What is the difference between the M98 and M95?
Dino
from Illinois
March 31, 2017
Is there a big difference between the M53 and M98 when it comes to noise and cycle rate? I have about 12 feet to go up from my sump pit, so would the additional hp help it not run as much with the initial float kick on at 9?"
Aaron H.
from North Dakota
March 21, 2017
What can one expect for your model M53 C to last in terms of years?
Rohn V
from Ohio
March 19, 2016
What material is the impeller made of.
Skip H.
from West Virginia
August 14, 2015
Jim, could you let me know how much wattage the Zoeller 98 1/2 HP motor uses. As I am considering buying a generator for a few items, including the sump pump?? Thank you, Paul
Paul A
from New York
November 25, 2014
My Zoller pump has a threaded female connector on the body. What am I expected to put between the pump body and the bottom clamp of this check valve?
BN
from California
September 17, 2014
Hi Jim, Can I use the Zoeller M98 as an effluent pump. I have seen it listed as a sump/effluent pump elsewhere. I like the Zoeller brand and am looking to use it as a lift pump for a septic tank. Thanks.
Kevin G.
from North Carolina
February 13, 2014
Installing an underground sump pump to drain water coming under the house. Was thinking about ordering the following kit, but I am not sure if the basin is the correct one for a sump pump or if we should switch it to something bigger. Zoeller 1050001 13 HP M53 Remote SinkDrain Pump System w Vertical Float Switch Thank you, Nestor Ho
Nestor H
from Texas
October 21, 2013
I have a Zoeller sub pump 1198 horizontal install, I would like to buy another pump,where this one is quite old. What is the model # I should buy. There is no info on tag that is attached the plug wire. I want to say this pump is at least 30 years old. I have never replaced it. Could you please tell me what I would need to purchase. I don not have any owners manuel on product all I could find was 1198 horizontal Install on pump. Can you please assist me. Thanks, Rebekah
Rebekah T
from Massachusetts
June 14, 2013
I live on a small man made lake and have a walk out basement. Over the years the water table of the lake has risen to the point that the piers of my deck, approximately 100 feet from the water, have raised my deck about 4 inches. I dug a dry well near the house 2 feet deep. This dry well is constantly filled with water to within 6 inches of ground level. The dry well has underground drain tile running out to near the lake. I want to install a sump pump in the well to extract the water and hopefully keep my deck fro rising. Will the M98 be a good pump for this application or should I be looking at a 3/4 or even 1 HP pump. I expect this pump will run quite often maybe even close to continuously. Thanks for your help. Kurt
Kurt K
from Illinois
April 25, 2013
I want to replace my old 1/3 hp Zoeller with a newer 1/2 M98. Our pump has worked well but we got hit with a lot of water in the Sept 2011 flood (Lancaster PA area). The check valve double checked so I don't know if the pump would have handled that volume. The pump is old, has a 1 & 1/4 line out. Do you think replacement with a 1/2 hp upgrade would be ok? Fits in the well the same but would handle a bit more water per hour. Thanks
Bob Spender
from Pennsylvania
October 23, 2012
I would like to know how many watts a 1/3 or 1/2 hp sump pump has, because i was think of buying a portable generator in case the power goes off.
Tom B.
from New York
September 03, 2012
Jim, I've learned a lot reading these Q&As and the reveiws. A few questions for you - hopefully this isn't overboard, I'm rather new to having a basement... 1. My current sump pump is old and I'd like to proactively replace it. Based on where I live, and how active he heard my sump pump going off even after no rainfall for a while, a plumber/family friend recommended getting 2 high velocity pumps at least 1/3 HP (with 2" discharge). Even though this only has 1.5" discharge, based on reviews I'm sold on either this Zoeller or your Storm Pro 'Best'. I've also heard of some friends having someone out to 'install a battery backup' on their existing pump (apparently not a separate system including another pump). Is there a way to add a battery backup system on to these pumps, since I want those pumps but the security of a battery backup? Does this approach of 2 of the same pumps make sense to you, or should I be looking to get one of these and a battery backup system? 2. How much time do the battery backups generally give you? Thanks! 3.
Tony
from New Jersey
August 28, 2012
what pump do you recomend for a 1250 gal septic system
Bill
from New York
July 29, 2012
I don't know which model sump pump to purchase or which model is appropriate for my home. How do I go about doing that?
Harry
from Illinois
May 20, 2012
I am torn between which Zoeller pump would be best for my application. My basement is 104' and currently takes in approximately 3" of water when there is a hard rain. The water is only on one side of the basement and never comes up on the other. Would you recommend a 1/3 hp or 1/2?
Joe
from New Jersey
January 15, 2012
I am considering buying a Zoeller m98. I am going to have it on a dedicated circuit my question is how many amps does the circuit breaker and circuit need to be. I see that the running amperage is 9.4 but I am concerned about having a circuit that will carry the starting load.
Peter Warren
from New York
December 30, 2011
can i adjust the float on a m98 pump? I cant get it any deeper, but need it to kick on sooner...
Zach
from Washington
December 29, 2011
Still evaluating: Question on Zoeller M98: Why does Motor Amps read "9.4 / 29.2"? What does the 29.2 mean?
David
from Michigan
August 07, 2011
do I need to drill a vent hole in the discharge pipe when installing Zoeller M98 in my basement for dewatering?
Ed
from New Jersey
June 04, 2011
I have this pump: Zoeller M98 - 1/2 HP Cast Iron Submersible Sump Pump w/ Vertical Float Switch, I am on my 3 pump in 6 years. All the same pump. Each time the pump gets stuck in the on positon and will not shut off. Can I replace the switch? I just got a new one and thought I could fix the swith on the old one and keep for a back up. Also, isn't is strange that this keeps happening? Our pump runs quite a bit in the spring and in winter is we get rain or a big snow melt. I keep getting the same pump from my home builder who runs a plumbing supply company and get a good price. Should I consider a different pump?
Ryan Schmitz
from Illinois
April 22, 2011
I want to replace our pedestal pump, which runs a lot due to high water table, and the zoeller M98 looks good. We have a rectangular sump hole in the corner of the basement, about 18 inches deep (est). What accessories would I need with the pump? All the covers I see are round, is there a rectangular cover available, and where does the check value go? Thanks!
Jim Shear
from New York
April 03, 2011
How can i get the arm that the float rides on the m53?
Steven Ramsey
from Indiana
February 12, 2011
Can you raise the vertical float switch to accommodate a higher water level in the sump pump pit on this Zoeller submersible sump pump, if so, how?
Daniel
from Illinois
February 07, 2011
My pump keeps running, is it the switch or the pump?
Dennis Lainson
from Iowa
February 05, 2011
I am considering ordering a back-up for my thirty-year-old Sears Craftsman 1/2 hp submersible. So far this unit (Zeoller M98) looks to be the best fit in terms of size, capacity and quality. Can I reuse the Craftsman solid state controller? The reason why is, I like that I can precisely set the cycle on/off level, using these little probes that run to an A/C line controller. I'd re-buy that exact same Craftsman unit again, except they don't make it anymore.
Steve Manseau
from Massachusetts
January 05, 2011
What material is the impeller made of?
Steven Manseau
from Massachusetts
January 05, 2011
What is a Vertical Float Switch?
Jon
from Illinois
December 29, 2010
98-0001
+
Thank You For Submitting Your Question
Your submission has been sent successfully. Please give our experts up to two business days to respond.
Media Gallery
Zoeller M98 - 1/2 HP Cast Iron Submersible Sump Pump w/ Vertical Float Switch