How Do I Update My Pickup Location?
How Do I Place a Local Pickup Order?
When Can Items Be Picked Up?
Who Can Pick Up My Order?
Why Can't I Select Local Pickup for Some Items?
Why Can't I Select Shipping for Some Items?
Which Payment Methods Are Accepted?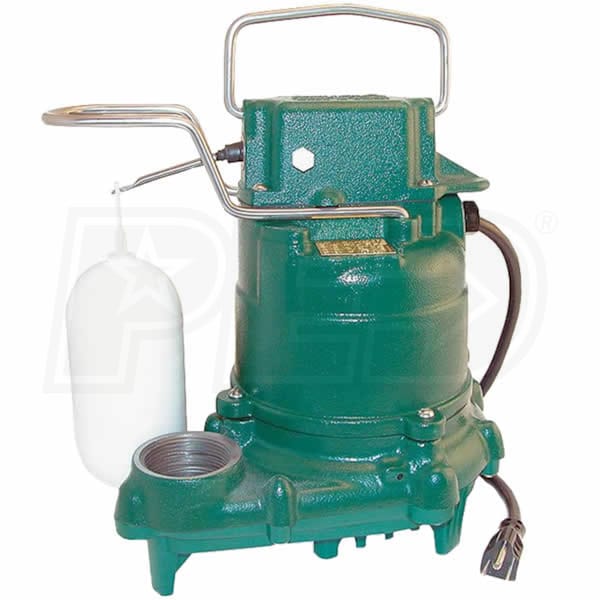 Hover to zoom
1 Of 5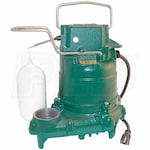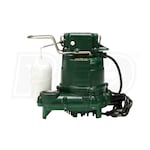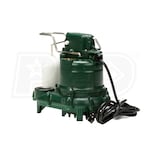 Zoeller M53 - 1/3 HP Cast Iron Submersible Sump Pump w/ Vertical Float Switch
Expert Recommended Accessories
Selected by Bob, our Expert
These accessories are required to properly setup/install this product.
Product Video Disclaimer: "PED is not responsible for any variances from the product in this video and the item you purchase. Please review all product specs prior to purchase."
Automatic Submersible Sump Pump

Ideal for average water removal

Cast Iron Switch Case, Motor & Pump Housing

Designed for rapid heat dissipation and extended life

Engineered Thermoplastic Base

Offers years of reliable, trouble-free operation

Vertical Float Switch

Solid and buoyant polypropylene design

Thermally Protected Motor

Oil-filled and hermetically sealed to prevent overheating

Carbon & Ceramic Shaft Seal

Assures maximum protection for extended pump life

Clog-Resistant Design

No screen to interfere with flowing debris

Capable of passing 1/2" diameter solids

Industry Leading Quality Control

Entire unit is pressure tested after assembly
WARNING: Cancer and Reproductive Harm - www.P65Warnings.ca.gov.
53-0001
General Information
Product Category
Sump Pump
Base
Base Material
Thermoplastic
Min Sump Basin Size
18 Inch
Motor
Pump
Housing Material
Cast Iron
Impeller Material
Plastic
Solids Handling Size
0.5 inch
Float Type
Vertical Float
Discharge Port Size
1-1/2 Inch
Engine
Overview
Product Category
Sump Pump
Consumer Warranty
3 Years
Product Length
10.2 Inches
Product Height
10.2 Inches
Additional Model Numbers
M53, 53-0001
Zoeller 53-0001 Reviews & Ratings
Product Questions
Answered by Bob, the eComfort Product Expert
Do you still need to drill an air relief hole in your pipe if this pump has an air relief hole?
Greg L.
from Massachusetts
November 04, 2018
Jim, how can I prevent water and sand from settling below my beach house? Would this pump work, and also be one that can handle the sand that comes in mixed with water? The beach house we purchased sits on stilts with all concrete drive-thru underneath. The house sits lower than both the street in front and back. If we get heavy rain in a short amount of time, then a heavy flow of water flows directly underneath our house and directly into the pool. It leaves dirt all across our front yard and underneath our house, both of which are concrete. After a big rain, it is not uncommon for the flow of water coming in to be 2-3" deep. I cut a trench 2' wide X 1.5' deep into the concrete running the width of the house,45' and placed the M53 sump pump at the end. It has a 1.25" Pvc discharge pipe tying into 4" pipe that carries the water into a lake behind our home. The pump pumps up 1.5' then 25'to the 4" drain line. This water rushing into this trench will have sand mixed in. Bottom line, this pump is not moving water out fast enough to keep the water from going under the house and into the pool.
CC Kirby
from South Carolina
June 17, 2018
Is there a big difference between the M53 and M98 when it comes to noise and cycle rate? I have about 12 feet to go up from my sump pit, so would the additional hp help it not run as much with the initial float kick on at 9?"
Aaron H.
from North Dakota
March 21, 2017
I'm replacing my Zoeller M72 Model with M53. Since M53 have a built in air relief hole do I need to drill a hole into my PVC pipe?
Mike B
from Illinois
April 02, 2016
What can one expect for your model M53 C to last in terms of years?
Rohn V
from Ohio
March 19, 2016
Is there a difference between the m53-d mighty mate and the m53
Harold G
from Massachusetts
March 21, 2015
I noticed that the zoeller 1/3hp pump takes 25 amps to start do I need a thirty amp circuit to run a zoeller pump? I have a twenty amp circuit with 12gauge wire for my wayne spf33 1/3 hp pump.
Gene K
from Illinois
December 29, 2014
Jim, I currently have a 1/3HP pedestal pump discharging through a 1-1/4" pipe. My pit is 15" across by 24" deep. When it rains, my pit fills up very quickly and the pump goes every 2-3 minutes. I want to replace it and was looking at this pump because my existing one is old and noisy. My concern is that it will be going off even more often if I change to a submersible style pump because it sits lower in the pit. Will that be the case? I don't want it to have to run more often then it does now.
Karl D
from New Jersey
October 01, 2014
My Zoller pump has a threaded female connector on the body. What am I expected to put between the pump body and the bottom clamp of this check valve?
BN
from California
September 17, 2014
I plan to replace a non working Zoeller M53 in a recently purchased house with a new Zoeller M53. Two questions: 1) the current set up uses 1 inch PVC discharge pipes - up about 8 feet and then horizontal for another 15 feet until exiting the house. Is the 1 inch pipe OK, or is it necessary to change to 1 1/2 inch pipes? 2) what is the recommended location for the new check valve? I was planning to go about half way up the vertical pipe. Thanks, Jim
Gene
from Missouri
August 24, 2014
I am thinking of buying the Zoeller M53 - 1/3 HP Cast Iron Submersible Sump Pump w/ Vertical Float Switch. But I was wondering does this need more than a 15 amp outlet, due to start up amps?
Bill
from Maryland
March 01, 2014
Installing an underground sump pump to drain water coming under the house. Was thinking about ordering the following kit, but I am not sure if the basin is the correct one for a sump pump or if we should switch it to something bigger. Zoeller 1050001 13 HP M53 Remote SinkDrain Pump System w Vertical Float Switch Thank you, Nestor Ho
Nestor H
from Texas
October 21, 2013
I have a Zoeller sub pump 1198 horizontal install, I would like to buy another pump,where this one is quite old. What is the model # I should buy. There is no info on tag that is attached the plug wire. I want to say this pump is at least 30 years old. I have never replaced it. Could you please tell me what I would need to purchase. I don not have any owners manuel on product all I could find was 1198 horizontal Install on pump. Can you please assist me. Thanks, Rebekah
Rebekah T
from Massachusetts
June 14, 2013
I have a M53-D Zoeller pump that is about 10yrs old.I was told by my home builder that it was rated to pump vertical up to 10ft.is this true?I have miss placed my owners manual and now the switch is bad so that the pump runs constant till it over heats,is that do to pumping vertical for 10yrs out of my basement for a washer?By the way it has been a great pump and will never own anything but a Zoeller for the rest of my time.Thank you.
Darrell A
from Virginia
April 20, 2013
Should the switch compartment of the M53 remain above the waterline or be watertight, because when i opened to determine if i should replace the switch a lot of water came out. All the terminals are corroded so it's been running like this for some time. I'd prefer to bypass the switch altogether but not if the compartment can't be sealed properly.
Steve
from Wisconsin
April 20, 2013
Jim what is the difference between a m53 and a m57 zoeller pump
Garver
from Illinois
February 11, 2013
What does min. sump basin size mean?
John D
from Massachusetts
February 02, 2013
I have a Zoeller M53 1/3 hp sump pump. It is at least 7 years old. I think older. It has been running well, but now it will not come on. the float is free and clear, but will not kick on unless i just tap the arm. The the pump works fine. I have cleaned the pump, well and float. Do I have to replace the pump?
Stephen
from Delaware
February 01, 2013
Is any maintenance required on the M53 pump? I see there are two white plugs on the pump and I'm wondering if oil needs to checked or added periodically or any other type of maintenance is needed.
Jim M
from Nebraska
December 22, 2012
What locations in Anchorge sells your product. I think only only one model m53 can be ordered through Sears.
Ef
from Alaska
December 11, 2012
I am getting a portable generator and want to include my zoeller m53-d pump to be one of the items supported by the generator. What kind of draw (startup and normal operation) should I include in my calculations for sizing the generator. Note, in hurricane Irene my pump was going off every minute.
John B
from New Jersey
November 04, 2012
I purchased a home with a zoeller sump pump already installed in the basement. Is there any way for me to tell whether it is a 1/3 or 1/2 hp model? I need to buy a generator, so I'm trying to determine what size. Thanks
Mich
from Tennessee
November 03, 2012
I would like to know how many watts a 1/3 or 1/2 hp sump pump has, because i was think of buying a portable generator in case the power goes off.
Tom B.
from New York
September 03, 2012
What kind of warranty do you have on your pumps?
John
from Pennsylvania
July 03, 2012
I installed the Zoeller M53 with the recommended 1 1/2" Zoeller check valve. I mounted the check valve about 5' above the base of the pump, about 2 1/2' above the check valve the pipe makes a 90 degree turn. All is operating well - Leading up to a question, I think I am getting some water hammer. The pump starts smooth but when it switches off it rattles the pipes. Any suggestions? I installed according to directions.
Steve
from North Carolina
May 14, 2012
live 1 bloock from river i get water from that and ground water. i have 1 zollerm53 if it stops iam done. i want 2sump pumps 1 higher tha other. for safty
Bill
from New Jersey
April 28, 2012
I have a Zoeller M53 in a basement sump 24 in. deep. the pump rests on the bottom and the float activates Approx. every hour for maybe 5 seconds max. Can i raise the pump in the sump 6 inches or so and therefore pump more water per cycle. Thereby cycling only maybe only every two hours. If I raise it 6 in. the water table would still be approx. 8 in. below underside of concrete floor when the float activates. This pump is approx 7 years old, seems to work fine , do I need to consider replacing and with what. Located in NW Ohio and water table is fairly high.
David O
from Ohio
January 23, 2012
I am torn between which Zoeller pump would be best for my application. My basement is 104' and currently takes in approximately 3" of water when there is a hard rain. The water is only on one side of the basement and never comes up on the other. Would you recommend a 1/3 hp or 1/2?
Joe
from New Jersey
January 15, 2012
Is the Zoeller m53 availiable with a longer cord?
Chris Allphin
from California
January 09, 2012
can i buy a new switch for m53
I purchased a super-sump 1/3 hp Zoellar cast iron pump last July. I would like to buy a generator to run that sump pump plus my icebox which takes 6.5 amps/115 volts. What size generator would I need to run both of these during a storm? Thank you.
Kathy Morocco
from Virginia
July 31, 2011
wanting to buy a battery backup system for the M 53 . Should I buy the 507 or 510?
Bill Knight
from Illinois
April 30, 2011
Hi there, I'm planning on using this pump and a Jackel sump basin ( or something like that) to move water from a "lake" in my diveway, about 50' horizontally to a flower bed. How far will this pump move the water? No head, actually probably a foot or two lower. I'll be using 1.25" PVC terminating in some sort of perforated drain pipe... HELP!!
Jeff Bell
from North Carolina
February 11, 2011
Can you raise the vertical float switch to accommodate a higher water level in the sump pump pit on this Zoeller submersible sump pump, if so, how?
Daniel
from Illinois
February 07, 2011
My pump keeps running, is it the switch or the pump?
Dennis Lainson
from Iowa
February 05, 2011
I have a Zoeller submersible sump pump don't no the model but it has a 9 foot cord, is it a m53? I found it running with no water in the pit,unplugged it and moved the float up and down a few times and plugged it back in, and it is working okay now. The pump is about 6 years old, should i replace it or is there something else i can do. Sort of worried it might fail and flood the basement.
Gary Smith
from Ohio
January 23, 2011
the pump is not turning off. Is the switch stuck? Can it be replaced? I gave it a good rap, but to no avail. The zoeller M53 unit is approximately 3 years old.
Bill Howard
from Georgia
January 15, 2011
Would this pump be suitable for a 12' x 12' basement?
Cody Dix
from Ohio
January 10, 2011
What is a Vertical Float Switch?
Jon
from Illinois
December 29, 2010
53-0001
+
Thank You For Submitting Your Question
Your submission has been sent successfully. Please give our experts up to two business days to respond.
Media Gallery
Zoeller M53 - 1/3 HP Cast Iron Submersible Sump Pump w/ Vertical Float Switch